Emil Lawrence Sodersteen (F.R.A.I.A.), Wychbury's Architect was born in Balmain on 30 August 1899.
His parents were Emil Gustavus Sodersteen (d.1913), a master mariner from Sweden, and his Sydney-born wife, Julia, nee Dolleen (d. 1964). He was the second of seven children.
He (together with his brothers Erik and Karl) changed his name by Deed Poll from Sodersteen to Sodersten on 19 November 1943.
In 1915 he was an article clerk to the firm Ross & Rowe and studied at Sydney Technical College. He later studied at the University of Sydney.
He founded a private architecture practice in 1925 in Sydney at age 24. He worked with his brothers Erik (Architect) and Karl (Structural Engineer). He was influenced by American Architects Raymond Hood and Bertram Grosvenor Goodhue. Together with colleague C. Bruce Dellit, he helped establish Art Deco as a style in Sydney.
He worked with John Crust (Architect) on the Canberra War Memorial, but withdrew in 1938. It was opened in 1941. This was the first national architectural monument in Australia.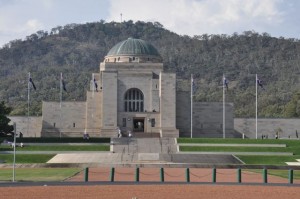 Some of Emil Sodersten's residential buildings in Potts Point (other than Wychbury) are pictured below.
Werrington – (1930) – 7 Manning Street
Cheddington – (1930) – 63 Elizabeth Bay Road
Twenty – (1930) – 20 Macleay Street
Birtley Towers – (1934) – 8 Birtley Place
Birtley Towers comprises 54 flats on 9 floors. In many ways it is Wychbury's big sister.
Both buildings share intricate textured brick facades and high pitched tile roof lines.
Birtley Towers is a significant milestone in the development of Sydney's apartment buildings. Not only is it aesthetically accomplished, it is well regarded by the local community, it has a beautiful foyer, is a freestanding block with its own garden, and it is influenced by the designs of Walter Burley Griffin and Eric Nicholls where Sodersten had worked. Birtley Towers was worked on by Beale and Co Ltd, with special glazing from F.W. Gissing Ltd. The builders were Hutcherson Bros.
Marlborough Hall – (1938) – 4 Ward Avenue
Marlborough Hall is an important building in Sodersten's career. It is influenced by European modernism. It is an outstanding example of Post War International Style architecture.
Emil Sodersten's residential buildings are not limited to Potts Point. Newcastle's only art deco apartment building Segenhoe Apartments (1936) – 50 Wolf Street Newcastle, has similar features to Wychbury and Birtley Towers including textured face brickwork, wall angles to maximise window space and a steep pitched tile roof. (see segenhoenewcastle.com)
Sodersten also completed an apartment building of 21 flats in Wagga Wagga – 1939.
Apart from residential buildings, Emil Sodersten was also Architect responsible for a number of highly significant commercial buildings, including:-
The City Mutual Life (CML) Building – (1936) – Hunter and Bligh Street
The CML Building's base is glossy granite, with bronze window sashes and sculptures by Rayner Hoff over the main entrance.
It was one of the first office buildings in Sydney to incorporate fully ducted air conditioning and automatically controlled lifts.
He was also responsible for the extension to the Hotel Australia in Martin Place (1935 – demolished) and the the QBE Building (1939-40) (formerly Bryant House) – 80 Pitt Street, an office building of 14 floors which displays facade of textured brick, polished granite plinth, together with an unusual vertical fenestration design designed to reflect the sun's rays.
Leaving his brothers in charge of work at the CML Building, Emil Sodersten visited England in 1936. He was fired with inspiration for the functional architectual style of Dutch architects Willem Dudock and H. P. Berlage.  He was also, not surprisingly, impressed by the architecture of Sweden and the taste and culture of the Swedish people. He was not, however, impressed with architecture or quality of workmanship in Britain or America. After returning to Sydney he abandoned the Art Deco style. He designed Nesca House (1937-9) in King Street, Newcastle – an uncompromising functionalist building.
Other Sodersen buildings include Kingsley Hall (c1925) 14-18 Darlinghurst Road, St Bede's Church of England (1931) in Drummoyne, No 7 Apartments, (1930s) 7 Elizabeth Street, Sydney (below), Elizabeth House (1939) 230 Elizabeth Street in Surry Hills, and the Grosvenor Theatre in Summer Hill.
He is regarded as the greatest architect of the Australian Art Deco style in Sydney. However, his architectural styles included Australian Art Deco, Functionalist and Modern. He had a great eye for detail, and was also a skilled painter.
Emil Sodersten was a council-member of the Royal Australian Institute of Architects in 1927-28, and a fellow in 1931. Every year, the Emil Sodersten Prize is given by the Australian Institute of Architects for Interior Architecture in his honour.
He was a sportsman, interested in skiing and polo. He served as a Flight Lieutenant in the Royal Australian Air Force in Papua and New Guinea during World War II (Service Number – 266387).
Emil Sodersten married Elsie Vera Wynn in 1951.
He died at Manly on 14 December 1961 aged 62.
_________________________________________________________________________________________
Notes –
Acknowledgement – Thanks to Anne Higham (Heritage Architect) of the Australian Institute of Architects, Tusculum House, 3 Manning Street, for providing Emil Sodersteen's biography, for notes written by Roy Lumby, and a copy of a thesis on Emil Sodersten "His Contribution to the Development of Architecture in Australia : 1925-1940" by Kristine S. Sodersten 8.9.67 – University of Sydney V 1965.
The photograph of Emil Sodersten is sourced from the Australian War Memorial. The colour photographs in this post are proprietary to the Board of Wychbury Pty Limited.
See the following links:-
http://www.adb.online.anu.edu.au/biogs/A160337b.htm
www.twentieth.org.au/assets_activities/eliz_potts_walk.pdf
http://www.artdecosydney.com/CML.html
http://www.architecturemedia.com/aa/aaissue.php?issueid=200711&article=16&typeon=2
http://www.angelfire.com/retro/artdeconsw/newresources.html
http://cas.awm.gov.au/item/ART92900
http://www.artdecoworld.com/gallerycanberra.htm